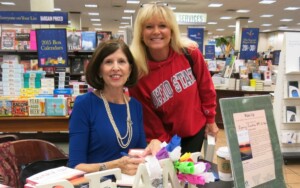 Over the years, DreamSynergy™ and Justina have helped thousands of people find the answers they were looking for using their dreams and the DreamSynergy™ process. We are grateful that many of our clients, students and colleagues have felt so moved as to write us to tell us their appreciation or positive observations about DreamSynergy™ and how it can really help people transform their lives.
Please enjoy reading the comments and success stories from a few of DreamSynergy's™ friends and fans!
My Hero
---
"Justina, you are truly a remarkable teacher, leader, mentor, dreamer, speaker, author and lifetime friend who I cherish with all my heart. You take every opportunity to bring awareness of the importance of dreams to the public, and your contributions to IASD are enormously appreciated.
Your Honoring the Dream handbook is a blessing to anyone wishing to be a leader in the field of dreams."
– Sylvia Green-Guenette, CDP; Northwestern Ontario, Canada
She Opened a World for Me
---
"Justina Lasley has opened the world of dreams for me, and she has been an inspiration expanding my skills in dreamwork. Her insight into dream analysis has helped me to become a confident professional in the dream field."
– Terri Collins PhD, LPC, CDP; Kabul, Afghanistan
Stepping into Sanctuary
---
"A dreamer who longed to find a professional outlet for the wisdom I sensed in my dreams, I searched the Internet and found Justina. My first encounter with her was at the Open Center in New York.
She had us draw a picture with our non-dominant hand. Mine showed a red door with a golden handle, reaching for the handle a ghostly hand, and hovering in the air above green eyes. I titled it SANCTUARY. "Those do not look like benevolent eyes!" Justina observed. I dissolved in tears. This marked the beginning of my miraculous journey through her certification program.
The awkward drawing, saturated with fear and insecurity, is a cherished reminder of the power of dreamwork when executed with the wisdom and compassion Justina holds up to her students."
– Hallfridur J. Ragnheidardottir, MA, CDP; Reykjavik, Iceland
Justina as a Role Model
---
"Justina has provided a wonderful role model for engaging deeply with one's dreams to grow a life of satisfaction and joy. She 'walks the talk' as they say. Throughout my life, working with dreams has taken center place and I'm happy to have participated in the IDS Certification Program!"
– Deborah Jean Armstrong, PhD, LMFT-S, RPT-S, REAT, REACE; Greenville, SC, USA
The Soul's Language
---
"For me dreams have always been a major part of my life, however I lacked the understanding of them. Justina not only gave me the language of dreams but also the road maps in which to travel, along with a confidence and security within myself. I can't thank Justina enough for her passion and enthusiasm for the dreams and the work. She is driven to help others understand the language of their own souls, which in my opinion, is one of the greatest gifts anybody can give to another person."
– Katrina Appleby, CDP; East Sussex, UK
A Rock Star with Style
---
"Justina, you are a rock star! A remarkable woman who has changed our world for the better. Your commitment to your own inner work has developed your insights and intuitions about people and dreams to a remarkable level. Your extensive knowledge, experience, and passion make you a gifted and inspiring leader, teacher, and writer. I believe this is what you were born to do.
Congratulations on your success in manifesting your magnum opus. I am so very proud to be able to call you a friend, and thrilled that your talented mentee, Tzivia, will carry the torch you lit into the future. You are a remarkable woman who has changed our world for the better. Knowing you has been a joy and an honor."
– Jean Benedict Raffa, EdD, Author; Orlando, FL, USA
I Found the Wisdom of My Dreams
---
"Justina's book and workshop Wake Up to Your Dreams opened my path to honor and work with my non-lucid dreams. She awakened my curiosity to gather a deeper knowledge of modern dreamwork and through the Dreamwork Certification program, I found the wisdom of my dreams!"
– Marlise Brauchli, CDP; Switzerland
A Legacy in Books and Action
---
"I appreciate Justina's love and commitment to dream work. Her legacy of Honoring the Dream and Wake Up to Your Dreams are wonderful resource books. She has truly 'walked and lived the talk' on dream work."
– Ruth O'Donnell, CDP; Ireland
Justina's Genius
---
"Justina's genius is in her gentle but persistent way of nudging her students, workshop participants and dream clients to a breakthrough. I know, because I've worked with Justina as a colleague, student, and friend. I met Justina more than a decade ago when I registered for the Institute for Dream Studies Certification Program. Today I am a certified dreamwork professional and education director for IDS. I can wholeheartedly say that my life has been enriched by my experience with Justina and her work."
– Tzivia Gover, MA, CDP, Author; Florence, MA, USA
A Guide and an Inspiration
---
"Justina, thank you for your endless guidance and inspiration.
I remember the day I decided to finally pursue my life-long dream, to study dreams. It wasn't long before I "stumbled" upon your work in my research and fell in love with your essence. It was easy to see that your authentic self was represented through your work and that inspired me very much."
– Guylaine Richer de Lafleche, CDP; Toronto, Canada
Justina is Intuitively Gifted and Analytically Trained
---
"Justina Lasley is a knowledgeable, professional dream therapist. She has honed her skills so that she can efficiently help her clients sort through the messages and metaphors contained in their dreams. She is kind and sensitive but stays on subject, gently bringing individuals back to the message that dream work is about them, no matter who the players in the dream are. Justina is intuitively gifted but also analytically trained. What a great combination!
As a client and former Executive Vice President in a Fortune 200 company, I highly recommend Justina for personal growth and understanding through DreamSynergy."
– Steve Purdom, MD; Nevada, USA